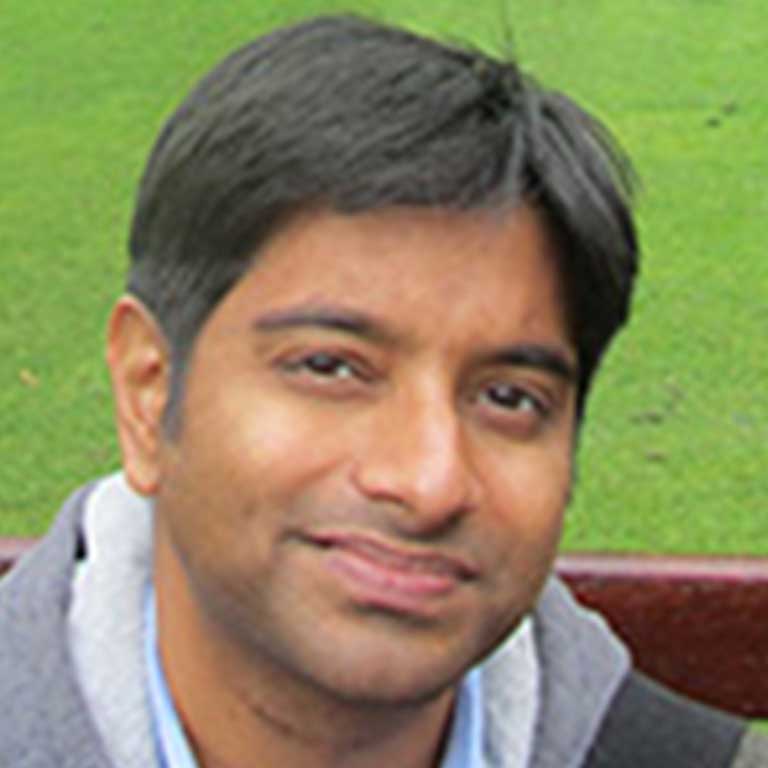 Ishan Ashutosh
Assistant Professor, Geography
Education
Ph.D., Syracuse University
M.A., University of Chicago
B.A., State University of New York at Buffalo
Research
Urban Geography
Political Geography
Cultural Geography
Migration/Diaspora
Postcolonial Studies
Teaching
G415/515: Advanced Urban Studies/Sustainable Urbanism
G441/520: Migration and Mobility
G314: Urban Geography
G313: Place and Politics
G380: Cultural Geography
G388/576: Qualitative Methods in Geography
About Ishan Ashutosh
Ishan Ashutosh is a critical human geographer whose work encompasses the study of migration, the politics of race and ethnicity from an international and comparative perspective, and urban studies. His research examines the multiple and contested representations of South Asia through projects situated in migration and area studies. The first research project focuses on the transnational politics of South Asian diasporas in multiple urban centres in the United States, Canada, and Britain, while the second research project examines the constructions of South Asia in the social sciences as a site of knowledge production. Ishan has published his work in the journals Journal of Historical Geography, Geographical Review, Citizenship Studies, Urban Geography, Geopolitics, and Diaspora. He is affiliated with the Dhar India Studies Program, the Center for Research on Race and Ethnicity in Society, Asian American Studies, and Cultural Studies. Prior to joining the department of Geography at Indiana University, Ishan was a lecturer at Northumbria University in Newcastle, UK, and a postdoctoral fellow at The Ohio State University. Ishan holds a Ph.D. in Geography from Syracuse University, an M.A. in the Social Sciences from the University of Chicago, and a B.A. in History from the University at Buffalo.
Publications
Ashutosh, I. 2018. Mapping Race and Environment: Geography's entanglements with Aryanism. Journal of Historical Geography. (Forthcoming).
Cook, I.R. and Ashutosh, I., 2017. Television drama and the urban diegesis: portraying Albuquerque in Breaking Bad. Urban Geography, pp.1-17.
Ashutosh, Ishan. 2017. The Geography and Area Studies Interface from the Second World War to the Cold War. Geographical Review, 107(4), pp.705-721.
Ashutosh, Ishan. 2015. Replacing the nation in the age of migration: negotiating South Asian identities in Toronto. Fennia-International Journal of Geography, 193(2), pp.212-226.
Ashutosh, Ishan. 2014. "From the Census to the City: Representing South Asians in Canada and Toronto. Diaspora 17(2): 130-148.
Ashutosh, Ishan. 2013. "Immigrant Protests in Toronto: diaspora and Sri Lanka's civil war." Citizenship Studies 17(2): 197-210.
Crane, Nicholas Jon and Ashutosh, Ishan. 2013. A Movement Returning Home? Critical Geographies of Occupy Wall Street After the Evictions." Cultural Studies/Critical Methodologies 13(3): 168-172.
Ashutosh, Ishan. 2012. "South Asians in Toronto: geographies of transnationalism, diaspora, and the settling of differences in the city." South Asian Diaspora 4(1): pp. 95-109.
Ashutosh, Ishan and Alison Mountz. 2012. "The geopolitics of migrant mobility: tracing state relations through refugee claims and discourses." Geopolitics 17: pp. 335-354.
Ashutosh, Ishan and Alison Mountz. 2011. "Migration management for the benefit of whom? Interrogating the work of the International Organization for Migration." Citizenship Studies, Vol. 15, Nos. 6/7: pp. 21-38.
Ashutosh, Ishan and Jamie L. Winders. 2009. "Teaching Orientalism in Introductory Human Geography." The Professional Geographer. 61: 3, pp. 1-14.
Ashutosh, Ishan. 2008. "Recreating the community: South Asian transnationalism in Chicago." Urban Geography 29: 3, pp. 224-245.